WF20B9600KV/GU AI Ecobubble, AI Wash, Auto Dispense and Bespoke Design, 20KG
Wash powerfully, efficiently & intelligently
Stylish & seamless design
BESPOKE Design
Enhance your home with a sleek, premium look. The simple and flat design blends harmoniously with any modern interior space and will fit with other appliances and kitchen furniture. You also have the flexibility to install your washer and dryer together either horizontally or vertically*.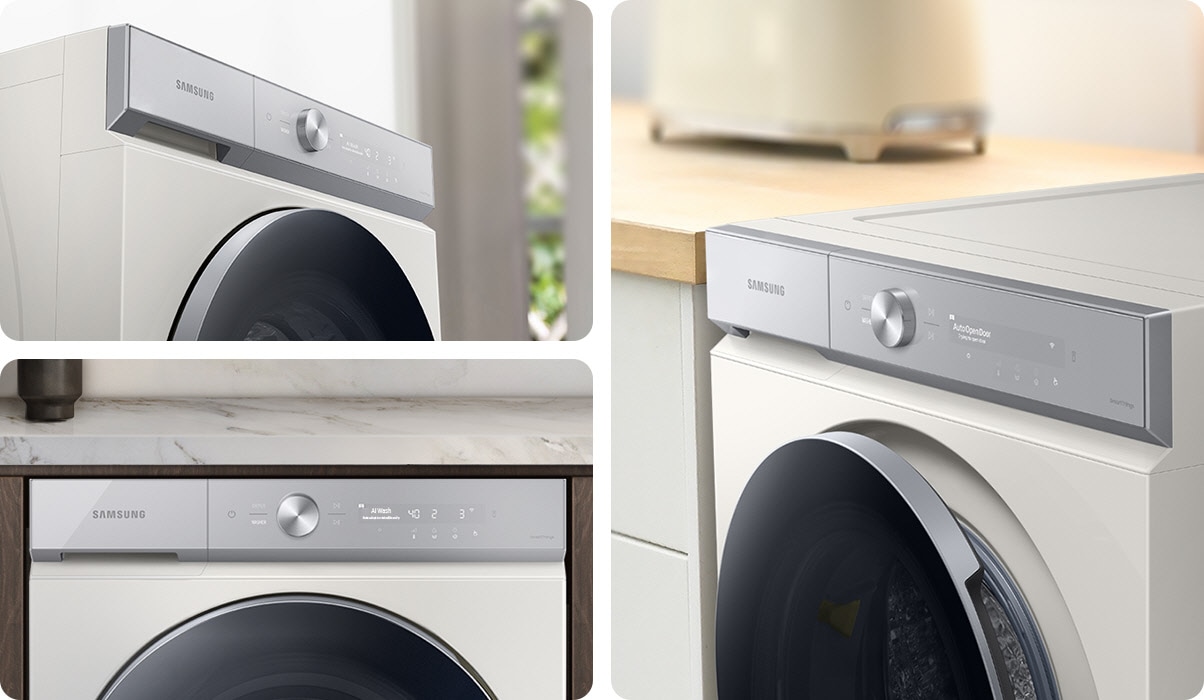 *Stacking Kit is sold separately as an accessory.
Wash more at once
Large Capacity
Wash many more laundry items at once – saving time and effort. The washing machine has a large capacity, so you can fit lots of clothes into a single load, including big items like a king-sized comforter. It means you need to do fewer washes and can enjoy more time for yourself.
One control for two*
All-in-one Control*
Control two machines using just one simple control to suit your needs*. When a clothes dryer is stacked up on the washer its All-in-one Control can be flexibly changed to control either. So you don't need to stretch or use a remote control. Just select washer or dryer to enjoy easier laundry!
* All-in-one Control is only available when a clothes dryer is stacked up on the washer and connected by a wire.
Less noisy vibration
VRT Plus™
Do your laundry anytime and anywhere without disturbing anyone. Innovative VRT Plus™ technology reduces noise and vibration during washes*. A new frame design also provides great stability to minimize noisy movement. And vibration sensing technology detects and reduces vibration from the motor.
Specifications
Washing Capacity (kg)‎20.0‎

Body colorBlack Caviar

DoorTempered Glass

Panel DisplayAI Control
Washing Capacity
Washing Capacity (kg)‎20.0‎
Design
Body colorBlack Caviar
DoorTempered Glass
Panel DisplayAI Control
Feature
AI ControlYes
AI WashYes
AI EcoBubbleYes
All-In-One ControlYes
Auto Open DoorYes
Bubble SoakYes
Bubble technologyYes
Child LockYes
Delay EndYes
Door LockYes
Drum Clean+Yes
Drum typeSwirl
Hot/Cold Water InletYes
Interior Drum LightYes
Language SettingYes
MotorDD
My CycleYes
Pet Care WashYes
Quick WashYes
Smart ControlYes
Speed ShotYes
Spin Speed1100 rpm
SteamYes
VRTVRT+
Cycle
AI WashYes
Active WearYes
Baby CareYes
BeddingYes
BlousesYes
CottonYes
DelicatesYes
DenimYes
Drum Clean+Yes
Hygiene SteamYes
OutdoorYes
Pet Care WashYes
Quick WashYes
Rinse + SpinYes
ShirtsYes
Spin OnlyYes
TowelsYes
WoolYes
Physical specification
Net Dimension (WxHxD, mm)‎686 x 984 x 850‎
Net Weight (kg)‎110‎
Gross Dimension (WxHxD, mm)‎767 x 1142 x 919‎
Gross Weight (kg)‎118‎
App Connectivity
SmartThings App SupportYes
Customer Name
dd MMM, yyyy
Review text placeholder